American citizen Jared Tucker was among the 13 victims killed in Thursday's vehicle-ramming attack in Barcelona, his family has confirmed.
Tucker's wife, 40-year-old Heidi Tucker, told ABC News that the couple had been celebrating their first anniversary. They started in Paris, moved to Venice and were finishing up the trip in Barcelona, she said.
After meeting a friend, the three were making their way through Las Ramblas to walk on the beach when they decided to stop and have sangria and buy souvenirs, she said.
About a minute after Tucker excused himself to go to the bathroom, "mayhem broke out," she said. People were screaming, running and crying as the sounds of sirens from first respodender vehicles filled the air.
In the chaos, Heidi Tucker got pushed "farther and farther away" from where she had last seen her husband, she said. Roads were blocked off, making it difficult to look for him.
"So we looked to try to get back to the main road for I don't know, I'd say about an hour and that was just wasn't going to happen," she said. "I'm looking for Jared everywhere and I can't find him."
Tucker said it "didn't really cross" her mind that he could be injured. His name wasn't on any lists in the makeshift emergency area, but a friend had shown her a photo on Twitter that "she was pretty certain" was him.
"He looked pretty injured, but she couldn't really tell," she said. "And I ended up seeing the picture [later] and it was definitely him. But it appears he had somebody tending to him, so that made me a little bit hopeful that he was alive."
It wasn't until late Friday night that she was able to see her husband's body, she said. He has not yet been positively identified because Spain has a "very extensive process of doing that," she said.
Tucker said her husband had a "magnetic personality," and that he would cook her dinner every night.
"I don't want to do this life independently. I want to do it with him," she said. "…I mean, I think we were soul mates. He loved me inside and out for every nice thing about me and for every horrible thing about me. And I just don't think you find that every day."
A spokesperson for Tucker's family said in a statement Friday, "At present Jared's wife Heidi is not issuing a statement and will issue a formal statement tomorrow. For now, she asks that the community and media hold their family up in prayer and asks for the privacy during this difficult time."
Tucker's father, in an emotional interview with ABC News, explained how the family learned of his son's death.
Dan Tucker said his family saw a video of a person lying on the ground after the attack who was wearing a blue shirt and tan pants, and Heidi told them that's what Jared was wearing at the time.
"There was a person kneeling beside him and so we thought, 'That's a good sign. He's probably hurt but not seriously injured,'" he told ABC News, with tears in his eyes. "But … it became more and more obvious that Jared couldn't be found."
The grieving father told ABC News he and his son were "really close," and their family is struggling to make sense of the tragedy.
"It's been hard, it's been bitter. But I don't know what my feelings are," Dan said." I'm not angry so much, I just don't understand it. And my wife's in shock; it's a lot harder for her."
Dan said he and his wife are grateful to be surrounded by family, friends and members of their church who are helping them get through this difficult time.
"I don't know how people handle something like this when they don't have a support group," he told ABC News. "We've got a huge support group and it's been really nice to have that."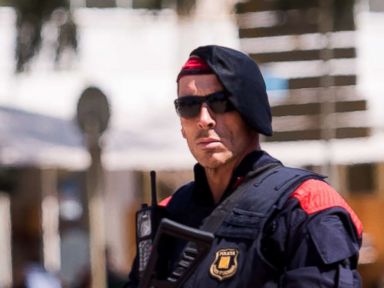 Source Article from http://abcnews.go.com/US/american-killed-spain-attacks-tillerson/story?id=49293454
Related Posts