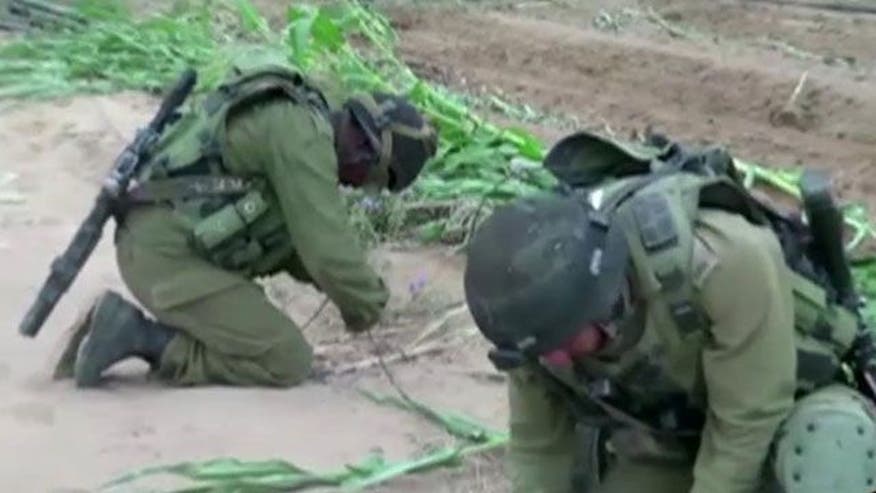 Sirens wailed and loud explosions rocked the streets of Gaza Monday as Israeli planes continued to strike homes and Hamas fired more rockets into the Jewish state. 
The Israeli military says seven soldiers were killed in a firefight with Islamic militants Monday, as the violence raged on.
United Nations Secretary-General Ban Ki-Moon and U.S. Secretary of State John Kerry headed to Cairo for a new round of negotiations to end two weeks of deadly fighting. Two weeks of rocket attacks and days of ground assaults have left at least 27 Israelis and 550 Palestinians dead, and tens of thousands driven from their homes in Gaza.  
A press statement issued by the U.N. Security Council expressed "serious concern at the escalation of violence," called for the protection of civilians under international humanitarian law, and said it was troubled by the growing number of casualties. 
Kerry said Sunday that the U.S. supports the Egyptian proposal for a halt to the hostilities that Israel accepted and Hamas rejected last week. Hamas remains deeply suspicious of the motives of the Egyptian government, which has banned the Muslim Brotherhood, a region-wide to which Hamas also belongs.
Israel's Ambassador to the U.N., Ron Prosnor, defended the Israeli military's actions, saying that Israel had been forced to defend itself against rocket attacks launched by the Islamic militant group Hamas and adding that Israel's military was exercising restraint. 
Hamas and its allies fired multiple missiles across southern and central Israel, and heavy fighting in the north and east of Gaza persisted, Reuters reported Monday.
Despite the rising death toll, there was no sign of a decrease in the violence. Israeli Defense Minister Moshe Yaalon said Monday he is prepared to continue the offensive "as long as necessary" to halt rocket fire and other attacks from Gaza on Israelis.
Hamas says that before halting fire, it wants guarantees that Israel and Egypt will significantly ease a seven-year border blockade of Gaza.
 "The resistance (Hamas) will not respond to any pressure," Hamas spokesman Sami Abu Zuhri said in a text message, in a reference to the renewed cease-fire efforts.
Israel launched a ground offensive late last week, preceded by a 10-day air campaign. Air and artillery strikes have targeted Gaza's border areas in an attempt to destroy tunnels and rocket launchers. The Jewish state accepted an Egyptian call for an unconditional cease-fire last week, but resumed its offensive after Hamas rejected the proposal.
Israeli tank shells struck a hospital in central Gaza on Monday, a health official and a doctor at the facility said. The health official said the shells killed at least four people and wounded 60, including 30 medical staff. The Israeli military said it was looking into the report.
Health official Ashraf al-Kidra said 12 shells hit the Al Aqsa hospital in the town of Deir el-Balah. He said the shells landed in the administration building, the intensive care unit and the surgery department.
Live footage on Hamas' Al Aqsa TV station showed wounded being moved on gurneys into the emergency department.
"There is still shelling against the hospital," Fayez Zidane, a doctor at the hospital said. He said he found bits of a rocket, presumably from one of the projectiles.
Sunday marked the single deadliest day in Gaza since the conflict erupted on July 8, with more than 100 Palestinians killed, according to Palestinian health officials. At least 65 Palestinians and 13 Israeli soldiers were killed in Shijaiyah, while thousands of terrified Palestinian civilians fled the devastated area, which Israel says is a major source for rocket fire against its civilians.
Among the Israeli dead were two American-born IDF soldiers: California-born Max Steinberg, 24, and Texas native Sean Carmeli, 21.
Hamas militants tried to sneak into Israel through two tunnels early Monday. The Israeli military said 10 infiltrators were killed after being detected and targeted by Israeli aircraft.  Hamas fighters have persistently tried to infiltrate Israel in the past week through a vast network of hidden tunnels, aiming to attack villages and army encampments that dot the border area.
Hamas also fired 50 more rockets at Israel, including two at Tel Aviv, causing no injuries or damage. Since the start of the Israeli operation, Hamas has fired almost 2,000 rockets at Israel.
On Sunday evening, Hamas spokesman Mushir al-Masri in Gaza claimed his group had captured an Israeli soldier. It named the man as Shaul Aron and showed his ID papers, but did not release any picture of him alive, Reuters reported. An announcement on Gaza TV of the soldier's capture set off celebration in the streets of West Bank.   
Israel's U.N. ambassador denied the claim, and Israel's military said it was still investigating. "We still cannot rule it out," military spokesman Lieutenant-Colonel Peter Lerner said Monday. The capture of an Israeli soldier would increase pressure on Netanyahu to intensify the military campaign.
Also Monday, an Israeli airstrike hit the home of the Siyam family in southern Gaza, near the town of Rafah, said the Palestinian Center for Human Rights. The strike killed 10 people, including four young children and a 9-month-old baby girl, said Palestinian health official Ashraf al-Kidra.
"This is not the time to talk of a ceasefire," Gilad Erdan, communications minister and a member of Netanyahu's inner security cabinet told reporters Monday. "We must complete the mission, and the mission cannot end until the threat of the tunnels is removed," he Erdan said, according to a Reuters report.
Fox News' Jonathan Wachtel, The Associated Press, and Reuters contributed to this report.
Source Article from http://www.foxnews.com/world/2014/07/21/un-security-council-demands-gaza-cease-fire-stops-short-calling-for-israel/
Related Posts