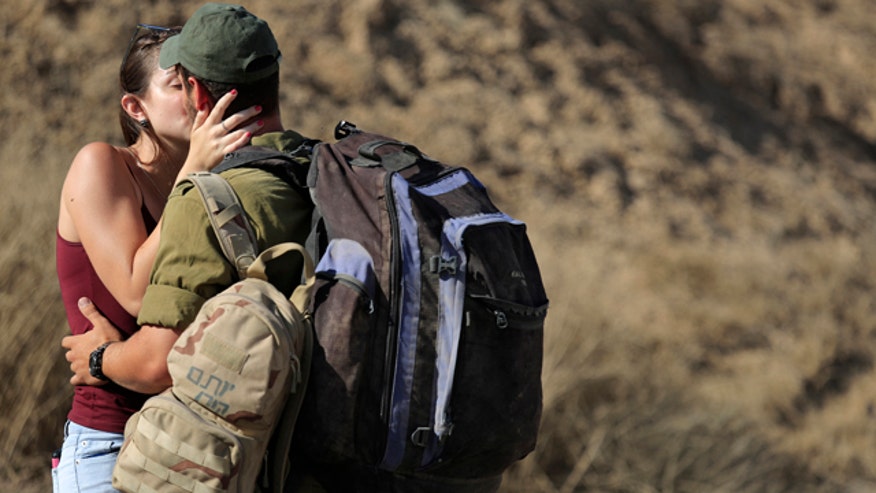 Some Israeli forces have begun pulling back to near the country's border with the Gaza Strip after Prime Minister Benjamin Netanyahu issued a new warning to Hamas Saturday and promised that Israel would fight "as long as it will take" to prevent further rocket attacks against Israeli civilians.
The Wall Street Journal, citing witnesses, reported that Israeli tanks had begun to pull back toward the border late Saturday. Residents of at least one area of northern Gaza that had been heavily shelled by Israel were given the all-clear to return to their homes, while a military spokesman confirmed to The Journal that some troops were crossing back into Israeli territory. 
Israel did strike several targets Sunday, including two high-rise office buildings in downtown Gaza City.
Earlier Saturday, in a televised address from Jerusalem, Netanyahu had hinted that the Israeli military will reassess its Gaza operation once troops complete the demolition of Hamas' military tunnels under the Gaza-Israel border.
"We promised to return quiet to Israel and that is what we will do," Netanyahu said. "We will continue to act until that goal is reached, however long it will take and with as much force as needed."
An Israeli official told The Associated Press that troops will remain in Gaza to wrap up the tunnel demolition but the effort is not expected to take "much more time." The official spoke on condition of anonymity because he was not permitted to discuss internal government deliberations with reporters. Israeli media reported that 31 tunnels have already been demolished and that the mission was close to being complete.
The Wall Street Journal reported that Netanyahu's government is divided on what course to take following the completion of the tunnel operation. Some have pushed for a continuation of the all-out offensive which began on July 8, known as Operation Protective Edge. Others believe the best course is to end the offensive, keep a blockade operated jointly with Egypt in place, and mobilize international opinion to convince Hamas to disarm. 
A former Israeli security official told The Journal that Netanyahu's government would have three days to decide their next move after the completion of the tunnel operation, while Israeli forces would redeploy to the border regions.  
Meanwhile, a quick cease-fire in the midst of the redeployment appears out of the question. Israel said Saturday it would not send representatives to Cairo for indirect truce talks after a 72-hour humanitarian cease-fire broke down fewer than 90 minutes after it was implemented Friday. 
The Associated Press contributed to this report. 
Source Article from http://www.foxnews.com/world/2014/08/03/israeli-forces-regroup-near-gaza-border-after-netanyahu-issues-new-warning-to/
Related Posts