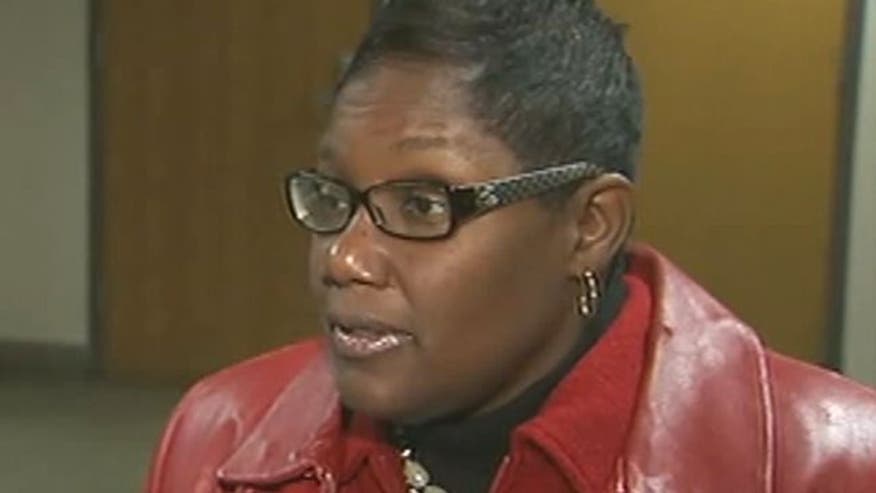 Police in northwest Indiana identified the suspected serial killer believed to have murdered seven women over an unknown time period, and warned at a news conference that the body count could rise.
The man accused of killing a woman Friday at a Hammond, Ind., Motel 6, and then leading authorities to a string of dead bodies dumped in abandoned homes in nearby Gary, was identified as Darren Deon Vann, 43, of Gary. Officials said he was convicted of sexual assault in Texas in 2009 and sentenced to five years in prison. He was released on July 5, 2013, the Times of Northwest Indiana reported. The mayor of Hammond said Vann admitted to two murders in Indiana in the 1990s, but details involving those were unavailable. So far, he has only been charged with the murder of Afrika Hardy, 19, who police said was a prostitute found strangled in the motel Friday evening. But authorities said more charges are certain, and more bodies are possible.
"It is possible the investigation could lead to more victims," said Hammond Police Chief John Doughty, who said Vann admitted that his crimes in Indiana go back two decades.
The flurry of grisly discoveries began Friday, when Hammond police responded to a call of an unresponsive person at a Motel 6 and found the body of Hardy. Hardy's pimp gave police information that led them to execute a search warrant on a home in Gary, where they took Vann into custody, Doughty said.
Vann, who was not identified until Monday's news conference, later confessed, police said, saying he "messed up" by killing a woman in Hammond. Vann told police where to find three other dead women, all in Gary, Doughty said. Acting on his information, police discovered the body of Anith Jones, 35, of Merrillville, late Saturday in an abandoned home in Gary. Her family had reported her missing on Oct. 8. It was not clear how long ago the other victims had been killed.
"The suspect Hammond arrested for the Motel 6 murder is an admitted serial killer."

– Hammond, Ind., Mayor Thomas McDermott
Jones' sister, Yolanda Nowell, previously described her as "very street savvy" and said she had moved 10 years ago from Chicago to Indiana, where she operated a stand at a nearby flea market.
Police found the next body around 1 a.m. Sunday and said the victim was Teairra Batey, 28, of Gary. Authorities found a third body less than an hour later, according to the Tribune.
Late Sunday, the coroner's office confirmed the discovery of three additional Jane Does, all of which were found in Gary. The city is 10 miles from Hammond. Doughty identified one of those victims as Christine Williams, 36, of Gary.
All seven deaths have been ruled homicides, according to the coroner's office. Most of the bodies were found in or around abandoned or fire-damaged homes in blighted neighborhoods, according to reports. The house near where Jones was found was described as being located in a thriving neighborhood, although it is unkempt, with overgrown grass and weeds.
A spokesman for the coroner's office said Monday that Hardy and Jones died of ligature strangulation. The corner was conducting autopsies on the other bodies. "We're actually doing the forensic work, carefully identifying with clothing or any tattoos," the spokesman said.
Hammond Mayor Thomas McDermott Jr. called Vann a "serial killer" in a Facebook post Sunday afternoon and said he has "admitted to a couple of homicides in Hammond," that date back to 1994 or 1995. He also said in his posts that the man is a convicted sex offender. Reports said the man was convicted of sex crimes in Texas. 
"The suspect Hammond arrested for the Motel 6 murder is an admitted serial killer," McDermott wrote. "The suspect gave up the location of a body in Gary that was confirmed found where he said it would be."
In a statement, Gary Police Cpl. Gabrielle King sought to ease apprehension in the gritty city of 78,000, noting that the man is in custody and that Gary and Hammond police are working together to bring charges.
"We would like to dispel the rumor that there is a serial killer on the loose," the statement read. "There is a 43-year-old man in the custody of The Hammond Police Department, who led officials to 3 deceased female victims who has claimed responsibility for their demise. Gary Police are closely working with Hammond Police to assist in covering every area of the investigation needed to pursue charges as expeditiously as possible. "
Gary Mayor Karen Freeman-Wilson and Gary Chief Larry McKinley in a joint statement asked for calm and patience.
"We commend the officers for their work thus far and ask the citizens to remain calm and patient as our teams work this investigation and do what they do best," their statement said.
Source Article from http://www.foxnews.com/us/2014/10/20/7-women-bodies-found-in-northwestern-indiana-linked-to-possible-serial-killer/
Related Posts